wahkohtowin (We are All Related)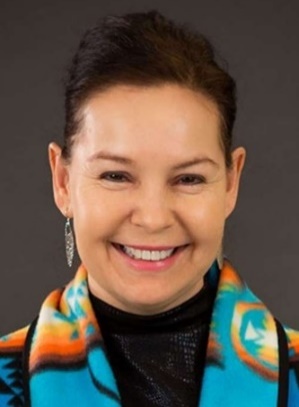 Dr. Holly Graham, RN, BA, BScN, MN, PhD, R.D. Psychologist, a member of the Thunderchild First Nation, was awarded an Indigenous Research Chair in Nursing. Entitled wahkohtowin, this research chair is focused on mentorship and reconciliation, with the goal of improving the health of Indigenous (First Nation, Métis, and Inuit) peoples. Dr. Graham was awarded this Chair in April 2020. 
This is one of six such chairs awarded across Canada.
These Indigenous Research Chairs in Nursing will promote research in Indigenous Health Nursing, thus furthering the development of knowledge and best and wise practices in the area of nursing practice, education, research and administration.
In addition, the Chair supports research to understand social, economic and cultural determinants of health and Indigenous holistic health practices to improve the health of Indigenous Peoples, and mentors undergraduate and graduate student nurses.
Funding for the new USask chair will total almost $1.05 million, with contributions of $666,500 from CIHR, $308,500 from the Saskatchewan Health Research Foundation, $10,000 from the Canadian Nurses Foundation, and $60,000 from USask.


Indigenous Research Chair News Releases
USask news announcement
Saskatchewan Health Research Foundation (SHRF) news announcement
Canadian Nurses Foundation news announcement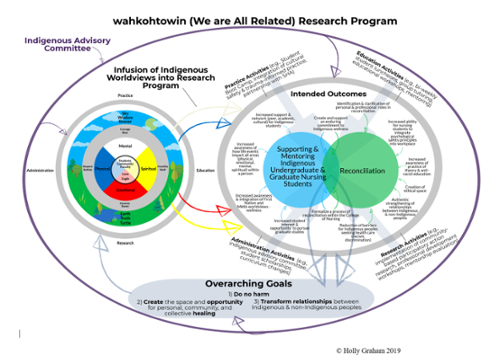 Dr. Graham created this model to illustrate the principles of wahkohtowin, how we are all interconnected and interrelated. Mr. Austin Tootoosis (kihte-ayak), a member of the Poundmaker Cree Nation, has explained basic wahkohtowin principles to Holly over the past several years. All activities within this Chair will be addressed holistically and will honour the Seven Sacred Grandfather Teachings. Ultimately, the goal of Dr. Graham's Chair is to do no harm, create the space and opportunity for personal, community, and collective healing; and transform relationships between Indigenous and Non-Indigenous peoples. To achieve these goals, she will focus on mentorship and reconciliation within nursing education in Saskatchewan.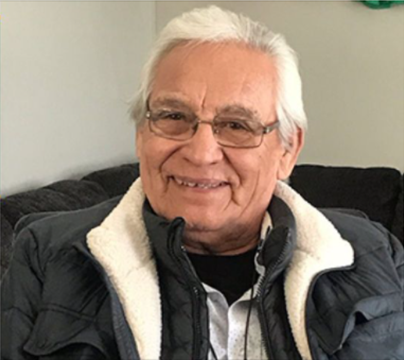 ---
The Indigenous Advisory Committee (IAC)
The Indigenous Advisory Committee provides support and mentorship to Dr. Holly Graham (PhD) in her role as Indigenous Research Chair. They advise on the implementation of the Chair's priorities.
IAC membership consists of faculty from the University of Saskatchewan, University of Regina and Saskatchewan Polytechnic, Elders, students, and community members. Click here to see a list of our IAC committee members. Click here for Terms of Reference.
---
Chair Initiatives
Reconciliation Award
The Indigenous Research Chair in Nursing will provide an annual award to graduates of a nursing program pursuing a master or doctoral degree. Applicants will focus their research in the area of Indigenous (First Nation, Métis, and Inuit) wellness. Preference will be given to Indigenous applicants who are exploring mentorship and reconciliation in nursing practice, research, education and administration.
​To be eligible, applicants must have current licensure with the Saskatchewan Registered Nurses Association (SRNA) or with their provincial or territorial licensing body. Preference is given to Saskatchewan applicants. The applicant must have at least one or more years of nursing experience following graduation.
The 2021 Award Winners will be announced soon.
Please contact barb.colvin@usask.ca for information on this award.

Reconciliation Award Information
Reconciliation Award Form
Reconciliation Lanyard Cards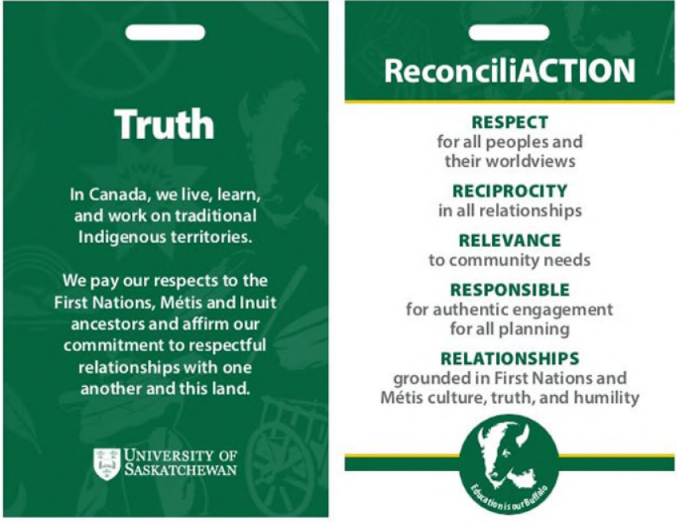 Dr. Graham co-chaired the 2018 Gathering for miyomahcihowin and the 2020 Gathering for miyomahcihowin and mii yoo naa kaa twayh ta mihk. Both of these Gatherings were planned to address health topics chosen by First Nations, Métis and Inuit community partners in Saskatchewan. The planning committee for this gathering created this lanyard card as a meaningful gift for the participants. Although the 2020 conference was cancelled due to COVID, Dr. Graham has now gifted the card to the USask College of Nursing, with a long term plan to share widely across Saskatchewan.
This card was developed through the collective efforts of many people who carefully reflected on the Truth and Reconciliation Commission's (TRC) Calls to Action.
Read more about the development of the card here.
Anti-Racist Education
The Indigenous Research Chair in Nursing has collaborated with the Anti-Racism Network to offer a 3-module, 6-day Anti-Racism Education series. Each module is 2 days, 7 hours each day, and in addition requires 4-6 hours of preparation with readings and videos. At the end of the series, participants will have a basic understanding of racist policies and history in Canada, and have a number of strategies to recognize and challenge racism and advocate for social justice.
Dr. Graham is committed to funding this training annually (2019 – 2024) for University of Saskatchewan, University of Regina, and Saskatchewan Polytechnic nursing staff, clinical instructors and faculty and other USask colleges and departments, as well as allied health professionals in Saskatchewan. Please note the Saskatchewan Registered Nurses' Association (SRNA) will accept these hours towards continuing education credits.
If you are interested in getting on the waiting list for the next offering of Anti-Racism Education, email us.
---
Research Projects
First Nations and Métis Health and Wellness Research, Training, and Knowledge Mobilization Network
FMHRN (SK-NEIHR)
Canadian Institutes of Health Research (CIHR), announced funding to establish nine Indigenous health research centres across the country under its Network Environments for Indigenous Health Research (NEIHR) program. This network of centres will be funded from 2020 to 2035 (15 years), to create and sustain supportive research driven by and grounded in Indigenous communities in Canada. Dr. Graham is one of the Scientific Directors for the First Nation Research Centre.
Recordings of the SK NEIHR webinars can be viewed here. Get involved in Indigenous Health Research in Saskatchewan - see more at this link.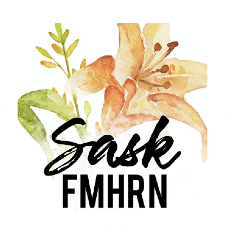 Ontario NEIHR
Also funded through Canadian Institutes of Health Research (CIHR), Ontario NEIHR is a national network for ending Indigenous illness and promoting Indigenous mental health and healing. Dr. Graham (PhD) is on the Leadership team for this group, and is the theme lead for Healing from Trauma and Reducing Addictions.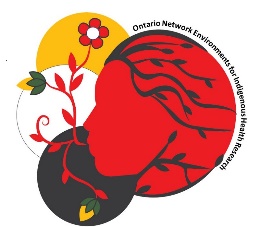 Land-based Wellness Camps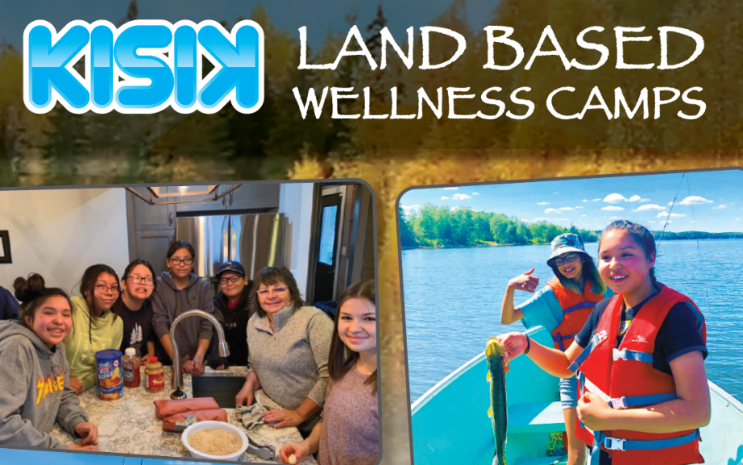 Carlin Nordstrom, a member of Poundmaker Cree Nation, established and runs the Kisik Wellness camps. Dr. Graham (PhD) is on Mr. Nordstrom's team as a mental health consultant.
At these camps, First Nations youth to have positive social interaction and participate in land-based learning and healing as part of reclaiming and rebuilding their First Nation identity.
We are grateful to the National Indian Brotherhood (NIB) for funding this project (2019-20) with a grant of $95,898. Their support allows youth from White Buffalo Youth Lodge to attend these camps.
*Note these camps are tentatively scheduled for the Spring of 2021.
nehiyaw wicihitwin (Cree helping Cree) in the Little Pine and Poundmaker First Nation

This five year project (2021-2026) is funded by Public Safety Crime Prevention with an award of 2.5 million dollars.
The overarching objective of this project is crime prevention, to decrease the current rates of Indigenous incarceration and to mitigate recidivism via culturally–adapted interventions for youth and their families in the Little Pine First Nation and Poundmaker Cree Nation, SK. Ultimately the project aims to create and sustain safer communities for both Indigenous and non-Indigenous peoples.
See the news announcement here.
Muskoday First Nation Wellness Plan
This project is funded by the Ontario Network Environments for Indigenous Health Research (NEIHR).
Dr. Graham is working with Muskoday First Nation to develop a community wellness plan based on the Cree Spiritual Laws. Mr. Austin Tootoosis (kihte-ayak) will provide the first virtual seminar, Recovery: Reclaiming and Rebuilding our Indigenousness, for Indigenous communities.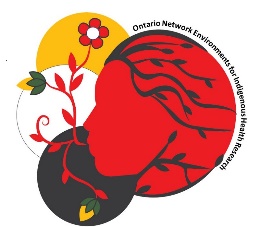 ---
Resources
There are many excellent resources available to help us learn more about Indigenous culture and history and the important work of the Truth and Reconciliation commission, as well as conducting research with Indigenous communities.
A curated list of resources.
The University of Saskatchewan' Office of the Vice-Provost Indigenous Engagement has created an Anti-Racism and Anti-Oppression website with numerous resources.
Indigenous Canada is a 12-lesson Massive Open Online Course (MOOC) from the Faculty of Native Studies, University of Alberta that explores Indigenous histories and contemporary issues in Canada. Created from an Indigenous perspective, this course explores key issues facing Indigenous peoples today from a historical and critical perspective highlighting national and local Indigenous-settler relations. Topics for the 12 lessons include the fur trade and other exchange relationships, land claims and environmental impacts, legal systems and rights, political conflicts and alliances, Indigenous political activism, and contemporary Indigenous life and art. The course takes about 21 hours to complete, and is 100% online and free to audit. You can also earn a certificate for a small fee.
Orange Shirt Day: September 30 has been chosen as Orange Shirt Day, a way for Canadians to commemorate the residential school experience, honour the healing journey of the survivors and their families, and commit to the ongoing process of reconciliation.
National Indigenous People's Day: June 21 is National Indigenous Peoples Day. This is a day for all Canadians to recognize and celebrate the unique heritage, diverse cultures and outstanding contributions of First Nations, Inuit and Métis peoples.
Student Resources for Conducting Literature Searching
A Practical Guide to assist with conducting a literature search at the University of Saskatchewan.
---
Indigenous Research Chair Team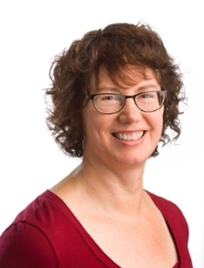 Barbara began her career in clinical dietetics, and moved into health research after getting her Masters degree at Carlton University. She has a special interest in history and ecology.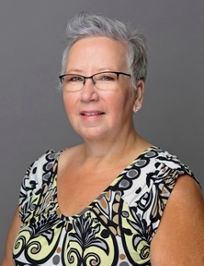 Tammy assists with the financial administration of the Chair projects, and planning and administration of events. She is Métis from the Bengough/Big Muddy in Southern Saskatchewan.
---