University of Saskatchewan (USask) College of Nursing Assistant Professor Dr. Holly Graham (PhD) wants to invite all Canadians to undertake their personal and professional journey with truth and reconciliation by responding to the Truth and Reconciliation Calls to Action.
In April 2020, Dr. Graham was awarded an Indigenous Research Chair in Nursing. The goal for this research chair is to improve Indigenous (First Nation, Métis, and Inuit peoples) health by focusing on mentorship and reconciliation. This fall, as part of her chair's work, Dr. Graham is gifting lanyard cards to students (undergraduate and graduate), staff, and faculty in the College of Nursing at USask.
As important as the truth is, it is the individual and collective actions that will ultimately make a difference. It is her hope all Canadians will use this card or anything else that inspires their personal and professional journey with truth and reconciliation.
As is the case with many truth and reconciliation projects, this card was developed by the collective efforts of many people who carefully reflected on the Truth and Reconciliation Commission's (TRC) Calls to Action. The Calls to Action have inspired many Canadians to learn about the history of the relationship between Indigenous (First Nation, Métis, and Inuit) and non-Indigenous peoples in Canada.
Collectively, the USask Health Science Colleges wanted to do something transdisciplinary in response to the TRC calls to action. They established the planning committee for the 2018 Gathering for miyomahcihowin (physical, mental, emotional and spiritual well-being) (the Gathering) and allocated staff to support the event. Dr. Graham and Dr. Jaris Swidrovich, USask College of Pharmacy and Nutrition, co-chaired the planning committee and were supported by Crystal Maslin, Special Project Coordinator. The planning committee discussed meaningful gifts for the participants; the idea of creating a lanyard card was initially inspired by Val Arnault-Pelletier, USask College of Medicine, who had attended a conference in Australia, which gave a similar card to attendees. The card that is being gifted to USask College of Nursing by Dr. Graham has its roots in these events.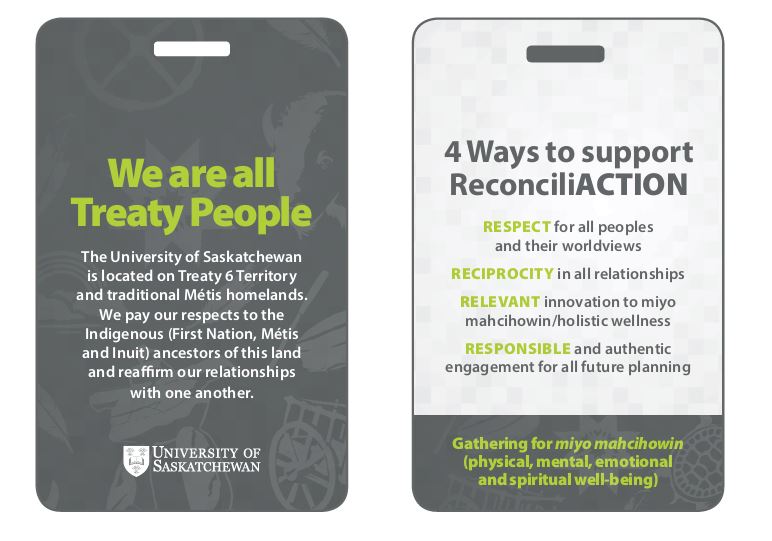 The hope was that 2018 Gathering participants would take the lanyard card (as above) as a foundation to begin their journey with truth and reconciliation. The card was created to provide concrete examples of meaningful ways to genuinely engage with First Nation, Métis, and Inuit peoples. It is important to remember this is a starting point to create awareness and conversations about truth and reconciliation using the 5 Rs as the foundation - respect, reciprocity, relevance, responsible engagement, and relationships - for personal and professional reflection and action. The card was warmly received and repeatedly requested by individuals, front-line workers, and agencies. The Canadian Nurses Association and the USask College of Medicine were each inspired by this card and created their own versions in 2018-19.
In 2019, the Gathering planning committee was re-established and began work on the 2020 Gathering for miyomahcihowin and mii yoo naa kaa twayh ta mihk. The lanyard card was further refined and intended as a gift for conference participants. While the 2020 Gathering was cancelled due to the COVID-19 pandemic, it is hoped these cards once again create resonance in the community. The version of the card that is being gifted to the USask College of Nursing (as below) was created by the Gathering planning committee for the 2020 Gathering.
Together Dr. Graham and Crystal Maslin envision the lanyard card being shared widely across Saskatchewan and wish to recognize the support, creative energy, and commitment to reconciliation of the planning committee members listed below.
Committee Members of the 2018 Gathering for miyomahcihowin
Co-Chairs: Holly Graham & Dr. Jaris Swidrovich
Project Coordinator: Crystal Maslin, USask Office of the Vice Provost Health
Sylvia Abonyi, USask College of Medicine, Department of Community Health and Epidemiology
Val Arnault-Pelletier, USask College of Medicine
Lois Berry, USask Office of the Vice Provost Health
Angela Bowen, USask College of Nursing
Stryker Calvez, USask Gwenna Moss Centre for Teaching and Learning
Sharon Clarke, Saskatchewan Health Authority
Susan Fillo, USask Office of the Vice Provost Health
Elder Norman Fleury, USask College of Education
Gabe Lafond, Saskatchewan Health Authority
Tania Lafontaine, Saskatchewan Health Authority
Matthew Miskocheegun-Donkey, Saskatchewan Health Authority
Vikram Misra, USask Western College of Veterinary Medicine
Susan Murphy, USask University Library
Allison Piche, Saskatchewan Indigenous Mentorship Network
Michael Szafron, USask School of Public Health
Committee Members of the 2020 Gathering for miyomahcihowin and mii yoo naa kaa twayh ta mihk
Co-Chairs: Holly Graham & Calvert Chiefcalf
Project Coordinator: Crystal Maslin, USask College of Nursing
Sylvia Abonyi, USask College of Medicine, Department of Community Health and Epidemiology
Val Arnault-Pelletier, USask College of Medicine
Matthew Dunn, USask Vice-Provost Indigenous Engagement
Susan Fillo, USask Health Sciences
Elder Norman Fleury, USask College of Education
Heather Foulds, USask College of Kinesiology
Diane Martz, USask International Research and Partnerships
Susan Murphy, USask University Library
Veronica McKinney, MD, Northern Medical Services
Tammy Morrison, USask College of Nursing
Adel Panahi, Métis Nation – Saskatchewan
Allison Piché, Saskatchewan Indigenous Mentorship Network
Collin Semenoff, USask Health Sciences (2020 Card Designer)
Aly Sibley, USask Health Sciences
Yvonne Tessier, Saskatchewan Health Authority
Lisa Woods, USask Health Sciences