Reunions
2013-2014 was an exciting time in the College of Nursing as we celebrated our 75th Anniversary. To mark this special occasion, we organized 2013 kick-off events in Saskatoon, Regina, Prince Albert and Yorkton, followed by northern events in February 2014.  Celebrations concluded with a weekend of festivities May 22 – 24th in Saskatoon.
Not only was this a time to celebrate the College, it was also an opportunity to recognize our Alumni. At the May Gala, we celebrated the recipients of our Alumni of Influence Awards.
Interested in organizing a class reunion? Don't know where to start? No need to wait 30 or 40 years. We can help you get started today. The College of Nursing alumni relations team is available to help you reconnect with your classmates and your college.
Our offerings:
Connect with your classmates; we'll send a message on your behalf.
Find "lost" classmates.
Provide College gifts for each attendee.
Host a visit with the Dean of Nursing.
Arrange a tour of the College of Nursing.
Suggest hotels and venues.
College of Nursing Reunion Ideas 2018
Contact us for more information.
Each year the College receives requests from alumni to host a reunion visit on campus in Saskatoon. Since the U of S has discontinued its annual Honoured Year's Reunion, the College has offered its support to our alumni. Typically alumni are treated to a continental breakfast with the Dean of Nursing on a Friday morning and then given a guided tour of the new Health Science Building.
Contact us if you are interested in organizing a class reunion at the College.
Contact your class representative listed above for information about upcoming reunions. If you do not see your class represented here and are interested in representing your class, please contact us.
Dean's Tour
The Dean may be coming to your community!
Connecting with our alumni in their home communities has proven to be one of the best ways for the College to stay informed. During our visits, we receive feedback about our programs and students. We hear fantastic stories about how our alumni have shaped their communities. Whether our alumni are health care providers or health care consumers, they provide us with a valuable and unique perspective as nurses or former/retired nurses. Watch for your emailed invitation!
Speed Nursing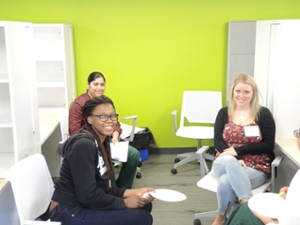 You've heard of speed dating? Well this is Speed Nursing, an innovative College of Nursing event connecting nursing alumni and students in a unique way. This one-of-a-kind knowledge sharing approach involves alumni sharing their expertise with current nursing students eager to learn about nursing first hand.
Picture this: nursing students choose topics they are interested in and sit at a table hosted by an alumnus with expertise in that particular area. Students have eight minutes to ask as many questions as possible. After eight minutes, a bell rings and they move to the next table and topic. Topics range from forensic nursing to bullying in the workplace, from professionalism to the SRNA and rural health, to ask the Dean anything. This fast-paced, informative evening is enjoyed by nursing alumni who look forward to sharing their knowledge with future nurses, and by current students who find the experience invaluable.
Speed Nursing has been held in Saskatoon, Prince Albert, Île-à-la-Crosse, La Ronge and Regina. Contact us if you are interested in being a table host at the next Speed Nursing event.