Interprofessional Education
The College of Nursing dedicates resources (e.g. staff, space, funds) that support the direction and structure outlined in the implementation of the Interprofessional Education Framework.
Initiatives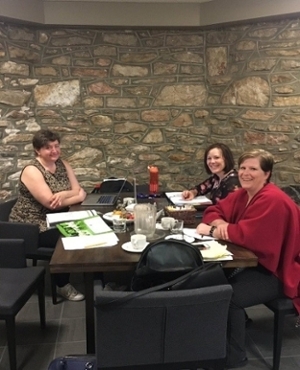 Staff have been hired to support the implementation of the Interprofessional Education Framework as follows:
IPE Point People were hired in Saskatoon, Regina (Yorkton) and Prince Albert (Ile-a-la-Crosse and La Ronge)
The primary purpose of the IPE Point People is to contribute to the implementation of the IPE Framework
IPE Point People work collaboratively across the province and are involved in diverse activities, such as conducting an environmental scan of IPE activities, assisting faculty in planning and implementing IPE experiences, web site development, developing and collecting resources and continuously exploring innovative opportunities for IPE.
The College of Nursing worked with the University of Saskatchewan Health Sciences Colleges to co-fund the delivery of the University of Toronto EHPIC certificate course in Saskatoon in 2015. Eighteen faculty and staff from the College of Nursing, along with 25 faculty and staff from the Colleges of Medicine, Pharmacy, Nutrition, Dentistry and Veterinary Medicine and Schools of Physical Therapy and Public Health participated and received the EHPIC certificate.
The College of Nursing supports the engagement of diverse teams in working together in enhancing IPE within the College and University. For example, the College of Nursing Marketing and Communication Specialist worked with elearning staff and the IPE point people in this development of this interprofessional education component of the College of Nursing website.
The College of Nursing works with other Health Sciences Colleges in dedicating resources for supporting student initiatives that focus on students development of interprofessional competencies, (i.e. National Health Team Challenges, SWITCH, SEARCH).