College of Nursing faculty develop a comprehensive understanding of interprofessional education (IPE) and interprofessional collaboration (IPC) through regular professional development opportunities. They then promote and implement IPE and IPC into their areas of teaching and learning, practice and research.
"Interprofessional collaboration has been one of the most rewarding aspects of my nursing career. I have seen first-hand the positive impact of IPC on client care and this has fuelled my passion for creating interprofessional education opportunities for students. I have been fortunate to be part of a dedicated team of local health care and social science faculty who come together to plan a variety of student IPE opportunities for students across nine different disciplines. Students repeatedly report that they value these opportunities to learn with, from and about other disciplines. This is reflected in the following student quote: "I liked having the opportunity to collaborate with other professional students. Everyone was able to learn from each other and get a better understanding of everyone's roles"."
Karen Jukes, Assistant Professor, College of Nursing, Regina Campus
"Working with different health care disciplines within interprofessional teams can be very effective for the delivery of holistic care and can also be rewarding for the participants. Patients, clients and communities can benefit from support given by different professionals attending to their unique needs, as they all work together as one team. Each discipline has a unique perspective that they bring to the situation that may complement and enhance the success of all team members and ultimately assist in providing more effective patient care and community enhancement. There are many professional rewards, as the disciplines are working in a unified way and learning from each other as they interact with these populations. As a nurse researcher, my experiences have been enriched by working with my colleagues from different professions, such as physio therapy, practical nursing, occupational therapy, nutrition, social work, medicine etc.. Together synergy occurs and we are a stronger more cohesive and effective team as we work with our patients, clients and community members to meet their goals."
June Anonson, Professor, College of Nursing, Prince Albert Campus
"An interprofessional community development model has been used to enhance the sustainability of the 10-year project I have been working on. This community-engaged partnership has led to experiential learning opportunities for nursing students. The ongoing collaboration in the interprofessional team provides experiential learning opportunities that enhances interprofessional student learning beyond the classroom, such as advocacy and intervention for youth with developmental disabilities. This project also involves collaboration and education for university students from multiple disciplines to develop professional competencies that contribute to interprofessional practice and education."
Lee Murray, Associate Professor, College of Nursing, Saskatoon Campus
Professional Development
There is clear evidence of a strong commitment and engagement to interprofessional education within the College of Nursing. Faculty, staff and instructors possess a strong desire to advance IPE in the Bachelor of Science in Nursing curriculum. This is evident by their participation in diverse IPE professional development opportunities and the implementation of IPE activities into their theory and clinical courses taught throughout the program.
By examining a snap shot of various faculty initiatives and activities to advance IPE at our province-wide campuses, we were able to determine faculty are integrating IPE in a variety of ways. They incorporate evidence informed practice by searching research and literature, advance their practice by building strong relationships in mentorship with multiple professionals, strive for excellence in research and publication with collaboration of other health science professionals and they continually examine current states with development of practice, education and research for the future.
An environmental scan took place in January 2015 in the College of Nursing. This scan revealed a multitude of diverse examples of IPE activities and achievements. The strong commitment and engagement to interprofessional education within the College of Nursing by faculty and staff was clearly evident. Faculty across the province regularly participate in IPE continuing education/in-services, conduct interprofessional research, present at interprofessional conferences and publish in peer reviewed journals relating to IPE/IPC.
The College of Nursing Myrtle Crawford Memorial Lectureship series welcomed Dr. Ivy Oandasan to Saskatchewan in 2015 for a variety of interprofessional education events. "We have been very fortunate to have someone like Dr. Oandasan, an internationally recognized leader in IPE, here to speak with us about strategies and structures that contribute to a successful IPE curriculum," said Associate Dean Dr. Hope Bilinksi.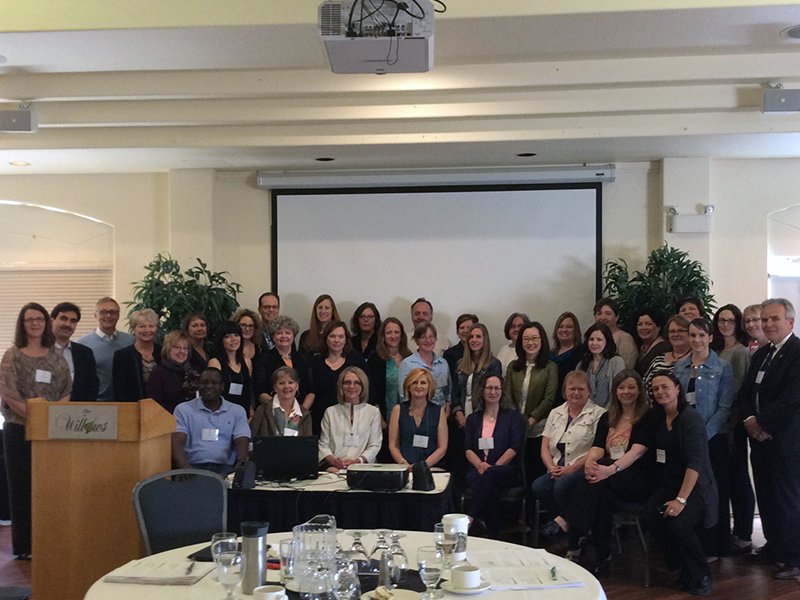 The Educating Health Professionals in Interprofessional Care (EHPIC) Certificate Course: Advancing the Future of Healthcare through Interprofessional Learning was delivered as a three day course for health professionals, educators and leaders in 2015. This event allowed for nine University of Saskatchewan Colleges to participate and the College of Nursing supported 18 College of Nursing staff and faculty to attend. 
Below are a few quotes from participants following the course.
"This [EHPIC Course] was a phenomenal experience. Your expertise was very much appreciated, keep up the great work."
"Great energy/commitment to the topics. Love the focus on facilitation/process in the context of IPE. Thank you ‐ not only have I learned a lot of IPE; I have also learned so many new approaches to improve my own teaching."