University of Saskatchewan College of Nursing student Collette Mcarthur was cruising along nicely with her life. She had a steady job working as a hotel desk clerk at Bear Claw Casino and Hotel when she decided to return to school at age 27.
Like most big life changes, it was a personal milestone that shifted Mcarthur's career goals. "When I had my baby, a daughter, I knew that I wanted more for her. I wanted her to have a mother with a career. And for her to think nothing of going to university to get her own degree when she grows up," says the Cree-nakota woman.
Mcarthur's family is from White Bear First Nation in the southeast corner of the Moose Mountain region. As the first person in her family to attend a university, Mcarthur was treading on unfamiliar terrain.
The prospect of pursuing a higher education was daunting but Mcarthur's ambition won out over her fear of the unknown and she applied to the Bachelor of Nursing program and was accepted and attended classes at the Yorkton site.
Mcarthur's career trajectory is not uncommon. In 2018, 19.9 per cent of undergraduate student nurses enrolled at the University of Saskatchewan were Indigenous. As of March 2018, the retention rate for Indigenous students enrolled in the bachelor of nursing program was an impressive 90 per cent.
These hard-working undergrads are enrolled in a unique program, the Native Access Program in Nursing (NAPN), established in 1984. Its sole aim is to increase the number of First Nations and Métis people working in the nursing profession. The innovative program has launched more Indigenous graduates into the nursing profession than any other program in Canada.
Now called The University of Saskatchewan Community of Aboriginal Nursing (UCAN), this trailblazing program plays a key role in the recruitment and retention of Indigenous nursing students.
UCAN nursing students can choose to study in Regina, Saskatoon, La Ronge, Prince Albert, Ile-a-la-crosse or Yorkton. This way, the students can opt to study closer to home and reduce the economic burden of relocation.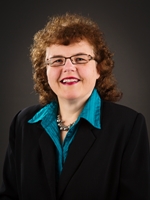 As an Aboriginal Nursing Advisor at the Saskatoon Campus. Trudy Unger helps students access UCAN's comprehensive series of support programs: financial assistance, childcare referrals, housing referrals and one-on-one tutoring.
Trudy Unger's mission as an Aboriginal Nursing Advisor at the Saskatoon campus is to recruit and advise nursing students.
"It's my job to remove any barriers the students may encounter in our program," says Unger. In recognition of her outstanding work, Unger received a 2018 award for advisors.
Unger provides valuable information and encourages students to utilize UCAN'S comprehensive series of support programs: financial assistance, childcare referrals, housing referrals and one-onone tutoring.
"When I was struggling with a course," says Mcarthur, "My advisor lined me up with a tutor. It made a big difference to me and I passed."
Mcarthur was the lone Indigenous student in her Yorkton nursing class. "It was hard for me at first as the only First Nations person. There are some cultural differences that I had to adapt to in school. I'm a quiet person and I needed to learn to speak up and contribute. That way, the teachers knew I was retaining the material," she explains.
The student success rate within UCAN is also aided by peer support, says Unger. Peer support is fostered through organized lunches and gatherings. And all students have access to Elders for wisdom and encouragement. Students also enjoy access to computer space with a printer and Internet service.
The firm foundation of the program is established in the recruitment phase. Unger and her advisor colleagues – located in Regina and Prince Albert – provide campus tours and attend career fairs. To facilitate the entrance process, prospective students are provided assistance with program applications and course registration.
One year of pre-professional classes is required before a student can apply for the program and Unger says that critical year of study "provides the foundation the students need to get established."
Mcarthur, who is pregnant with her third child, is completing her final year of the Bachelor of Nursing program and is busy preparing for the professional licensing exam while her partner tends to their young family.
Mcarthur's mother was also instrumental to her success: "Mum looked after the kids so I could study. It was a very big help to me."
The next step for Mcarthur, when she passes her professional exam, is a mandatory year of work in acute care or long-term care.
Once her work term is completed, Mcarthur will pursue a career in public health. "I want to give back to my community," she says. "I learned so much in the program. Now I'm able help my people.